Bradenton Beach Business Signs
View Business Sign Gallery
Give your business a better way to receive attention and showcase your products and services with high-quality business signs designed by Axe Signs & Wayfinding!
Axe Signs & Wayfinding serves any type of business in Bradenton Beach, FL that needs high-quality yet affordable business signs. We work alongside businesses to develop the ideal business sign designs and match their brand message as we make their sign ideas a reality.
From storefront signs to towering pole signs, our team can guide you through all the options and help you pick the best Bradenton Beach business signs for your company.
You also don't have to worry about your budget and other key requirements when you reach out to us for your business signage needs. Our team is always ready to craft these signs to suit your needs perfectly and keep everything within budget.
Call Axe Signs & Wayfinding at (941) 265-8727 for your Free Consultation with a Business Sign Expert!
Cohesive Commercial Signs
Businesses have customized business signs installed inside and outside of their facility so that they can get the right attention for their brand. Not only do indoor and outdoor business signs indicate your brand name and logo, but business signs also provide information to customers regarding what you are offering, like products, hours or operation, accessibility information, and promotional campaigns.




At Axe Signs & Wayfinding, we create Bradenton Beach business signs that will help you promote your brand, business and offerings and set you apart from your competition. Our talented sign experts can use even the smallest information to design the best concept that will meet your business goals. We can also determine which business sign type is perfect for your location and industry. No matter where and when you need business signs, our team is ready to assist!
Complete Business Signage
Commercial signs enable your business to prevent brand confusion and let customers know that you are a unique business. These signs also help improve customer impressions, especially when it comes to the brand's image in general. Business signs also assist in supporting your other marketing campaigns and keep them your public messaging cohesive.
Our team at Axe Signs & Wayfinding is dedicated to providing your business with the right business sign solutions you need. We can personalize your signage to match your business targets, while taking into consideration your industry's standards. You can request any type of business signage from us, and we assure you that you will get full support for your sign solutions from our dedicated team. We can also help you with positioning, materials, designs, and combining both indoor and outdoor signs for your brand to make the best impact with your customers and employees alike.
Our sign services also include:
Our team can tackle any type of business sign project imaginable, including customized business graphics and signs. Let our team know your project's details, and we'll make your designs a reality.
Free Business Sign Consultation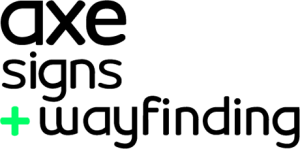 You can get attractive and high-impact Bradenton Beach business signs within your budget if you know which company can help you out.
At Axe Signs & Wayfinding, we make sure that your budget, ideas, and requirements are met while designing and manufacturing your business signs. We know how important these signs will be for your business, which is why we do everything in-house to reduce the stress you may have when creating signs for your business.
Call Axe Signs & Wayfinding at (941) 265-8727 for your Free Consultation with a Business Sign Expert!