Bradenton Channel Letters
View Channel Letter Gallery
For many businesses, channel letters are the business signs they use for their storefront and other key areas of their establishment.
Any industry can benefit from channel letters because they are very flexible, able to display images, numbers, logos, and shapes that represent your brand.
Axe Signs & Wayfinding is one of the best business sign companies you can trust for quality and affordable Bradenton channel letters.
We offer fast and personalized services and signs that match your requirements and budget each time you request a business sign from us.
Call Axe Signs & Wayfinding at (941) 265-8727 for your Free Consultation with a Bradenton Channel Letter expert!
Storefront Channel Letters
Channel letters are often seen in storefronts, and they are one of our top sellers. These signs are 3-dimensional, allowing the words, logos, or numbers to stand out. They are made individually and aligned with the help of a backing frame or flush-mounted to the building directly. They are covered with acrylic to make sure they withstand the elements and clearly show your brand's colors.
For these channel letters, we can spell out your business name, slogan, logo, and other information you wish to display. We have all the options you can choose from for your channel letters to make them more unique. We can even hand-form your channel letters to match the shape or size you want.
Channel letters are often used in retail stores, grocery stores, office buildings, malls, shopping centers, schools, churches, and many others.
Dimensional Letters
Dimensional letter signs are recommended for businesses looking for a more fluid channel sign for their business. This type of channel letter only uses one sheet of material to create the dimensional letters and make the channels needed to illuminate it. This type of channel letter also allows people to control the look of the sign from different angles, thanks to the variances done in the material.
If this is the type of Bradenton channel letters you want us to make for you, we can customize it to match the dimensions you want it to look like.
Dimensional letters work perfectly for restaurants, malls, manufacturing centers, and retailers. They can also be used as a lobby or indoor sign.
Backlit & Illuminated Channel Signs
LED backlighting can be added to channel letters to give them a 3D effect that will allow people to see them clearly at night and even in poor weather conditions. For our backlit and illuminated channel letters, we don't only handle all the necessary things for your signs but also the electrical components to get everything working.
Backlit and illuminated channel letters work perfectly for businesses looking for a unique lighted sign that will attract both new and regular customers and businesses with night hours like bars, clubs, convenience stores, and gas stations.
Free Channel Letter Sign Consultation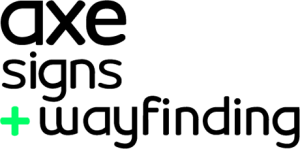 If you need quality channel letters or other business signs for your business, don't hesitate to contact us today. We are a Bradenton, FL sign company dedicated to providing every client with outstanding customer service and signs that will help them achieve their business targets without going over their budget.
Whenever you need signs, we are here for you. Call us now and get your very own custom Bradenton channel letters from Axe Signs & Wayfinding!
Call Axe Signs & Wayfinding at (941) 265-8727 for your Free Consultation with a Bradenton Channel Letter expert!