Bradenton Digital Signs
View Sign Gallery
Do you want to have an interactive and eye-catching way to attract your target market through your signs? If yes, custom Bradenton digital signs by Axe Signs & Wayfinding are the option you should consider for your business.
Digital signs are easy to personalize and give businesses an eye-catching way to call customers and make impressions. They can also display full media content such as videos and photos in full color if that is your requirement.
Axe Signs & Wayfinding is the full-service sign company you can contact for the job if you want your digital signs to help you stand out and prove that you are making a good investment for your company. Our team will handle every aspect of the sign project and ensure that you get your signs on time and within your requirements.
Call Axe Signs & Wayfinding at (941) 265-8727 for your Free Consultation with a Bradenton Digital Sign expert!
Dynamic, Attractive Digital Signs
Digital signs are perfect for any business wanting to promote their business and brand in a more interactive way than traditional signs. Businesses can edit what these signs display at any given time and relay the information they want people to know, such as your current offerings to messages you want them to know.
You have a lot of options for Bradenton digital signs, and if you can't choose, our staff can help you look at each option and help you pick the best one from our catalog. We can also design them to work perfectly with your marketing strategy and keep it within your budget.
Outdoor Digital Displays
Before your customers or potential clients see your storefront, you should find ways to attract their attention even when they are a distance from your shop.
Outdoor digital displays can achieve this goal because they can be customized to show whatever content you want people to see even before they see your store.
Our outdoor digital displays are weather-resistant, ensuring that they work even under the pouring rain. We can also customize how they look and what content they can display. Let our signage team know what you want these displays to showcase, and we'll tailor them to achieve your targets.
Indoor Digital Displays
Your indoor signs should work in tandem with your outdoor signs, and this is true for indoor digital displays.
Indoor digital displays enable businesses to introduce products and services in an interactive format. Digital displays can showcase videos and pictures, which is perfect for businesses that require a lot of visual campaigns, such as restaurants, retail stores, stadiums, hotels, museums, and corporate offices.
If these are the signs that you require, our company can show you how these digital displays work and how they can be tailored to your business. We will also visit your business to create the perfect environment to achieve customer satisfaction and showcase the brand's professionalism. We use environment-friendly and sustainable materials for your digital displays, ensuring that they work as they should and keep them within your budget.
Full-Service Sign Company
At Axe Signs & Wayfinding, we understand that time is money for businesses, and it is important that they get everything they invest in immediately to keep the momentum going. This is the reason why we took our time and effort to make our company a full-service sign company. As a full-service sign company, we can tackle every aspect of the sign project, from developing the design to installing, maintaining, and repairing the signs once they are ready.
We also make our service more accessible and allow our clients to ask questions through our free consultation service. During the service, our sign experts will ask key details about the business and what your ideal sign is like. With the information you provide us, we can immediately design a sample design that can be the foundation for the signs you may request from us and our estimate. We can definitely match your budget and make signs that will still wow your audience.
If the design is to your approval and you are okay with our quote, we will start making your signs. As the signs are being made, a quality control team is on standby to check the signs to ensure that every element is included and there are no problems. We will also check if you will need permits to get your signs up and apply them on your behalf.
When your custom Bradenton digital signs or other business signs are ready for installation, our installation team will act swiftly and get them installed in the right areas to get more traction. They can also handle the electrical work needed to get everything to work. If you need additional assistance to get your signs maintained or repaired, we can send a team to handle it for you.
Free Digital Sign Consultation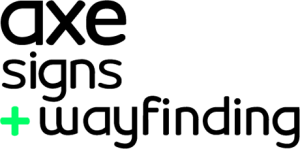 When you need custom digital signs for your business, it is crucial that you contact the best Bradenton, FL sign company for the job. Axe Signs & Wayfinding has a stellar track record of satisfied clients who are now enjoying the personalized business signs we made for them.
Let us know what you are looking for in your dream digital business sign, and we'll show you what our team can come up with. Make us your sign partner today!
Call Axe Signs & Wayfinding at (941) 265-8727 for your Free Consultation with a Bradenton Digital Sign expert!