Bradenton Monument Signs
View Monument Sign Gallery
As a business, you have to show your clients that you are someone they can trust and are unique from your competition. You can show this through your business signs, especially through Bradenton monument signs.
Monument signs are freestanding and usually made from solid materials such as brick, concrete, and stone. They can display your business name, logo, and other key information you want people to know before entering the facility. Depending on the design and location, your company can make a great first impression on people who see these monument signs.
At Axe Signs & Wayfinding, you can request monument signs that will surely catch your client's imagination. Axe Signs & Wayfinding is a Bradenton, FL sign company dedicated to providing only the best business signs for our clients and giving them the push they need to stand out from their competition.
Call Axe Signs & Wayfinding at (941) 265-8727 for your Free Consultation with a Bradenton Monument Sign expert!
An Impressive Entrance
Many businesses invest in monument signs because they are eye-catching and showcase the permanence customers are looking for in a brand.
These signs are also made to be seen at an eye level, allowing people to focus on the content easily, and there is no additional support to showcase the sign. Since there are no additional structures to the sign, it is more durable and won't get damaged easily by the elements. With this said, it won't require you to change it regularly when it gets damaged.
Multi-Tenant Monument Signs
Monument signs are often used by business parks, shopping centers, and business complexes as tenant signs. When you request our multi-tenant monument signs, we can put the names of all the businesses or offices located in your facility, so people know where they need to go.
We can also add a digital message center that can feature a greeting or advisory for your clients or employees to see before they get into the facility.
Custom Signs for Every Budget
All our Bradenton monument signs are custom-made to match the clients that request them. We can work on any material and design, as well as match them to the client's budget. Our sign experts can also do custom monument signs in case clients want something different from other monument signs they see from their competitors.
We also make other types of business signs at Axe Signs & Wayfinding, making us the ideal sign partner for any business. Whether you need a storefront sign or a pylon sign, we have the team, equipment, and experience to make it happen.
Free Monument Sign Consultation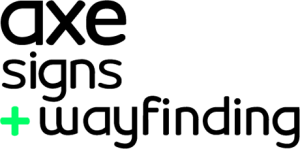 When you need custom and affordable Bradenton monument signs, you can trust our team to make them on time and fit your budget.
We are dedicated to providing only the best service and ensure that you will benefit from your custom business signs for a long time.
Call us today to find out more about our services.
Call Axe Signs & Wayfinding at (941) 265-8727 for your Free Consultation with a Bradenton Monument Sign expert!